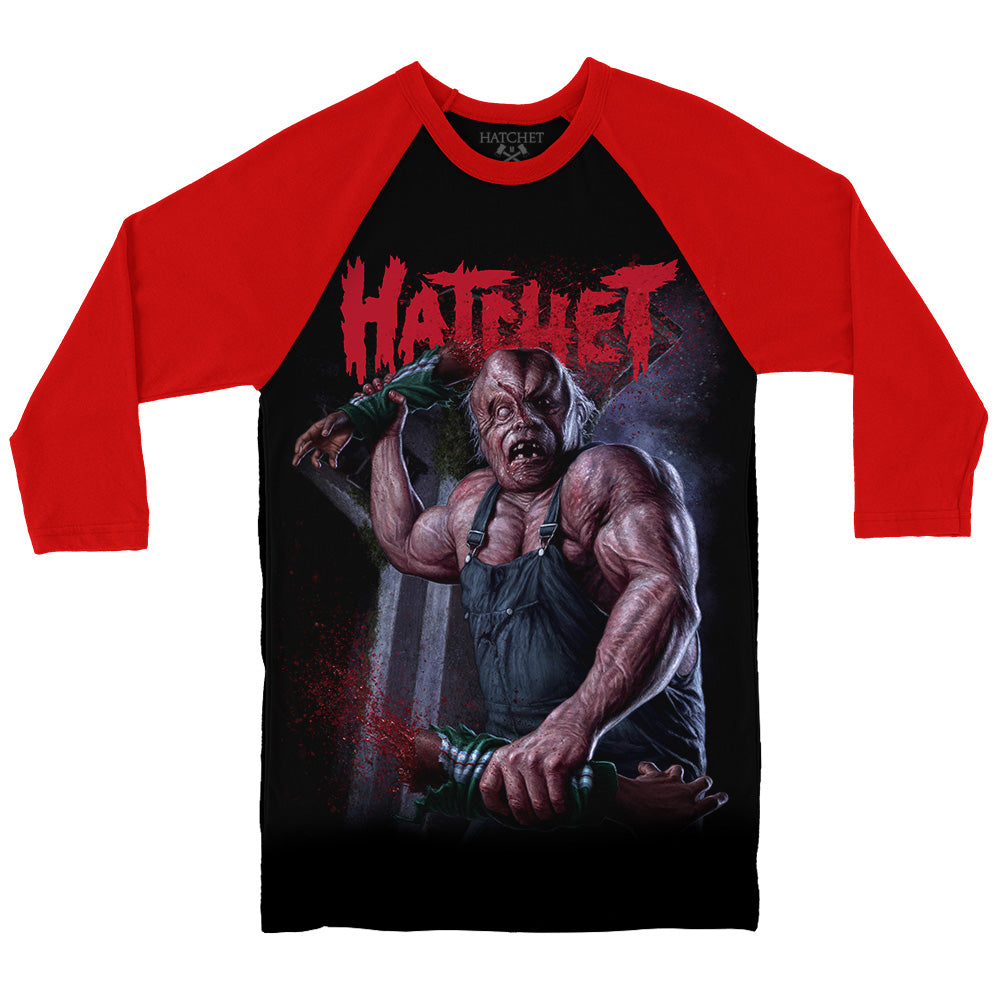 Hatchet Terror Goes Old School Baseball T-Shirt
In stock, ready to ship

Inventory on the way
---
Size chart
Unisex T-Shirt Approximate Measurements
Small = 18" Across Front Of Chest, 28" In Length

Medium = 20" Across Front Of Chest, 29" In Length

Large = 22" Across Front Of Chest, 30" In Length

XL = 24" Across Front Of Chest, 31" In Length

2XL = 26" Across Front Of Chest, 32" In Length

3XL = 28" Across Front Of Chest, 33" In Length

4XL = 30" Across Front Of Chest, 34" In Length

5XL = 32" Across Front Of Chest, 35" In Length
Ladies Form Fit T-Shirt Approximate Measurements
Small = 16" Across Front Of Chest, 26 1/4" In Length
Medium = 16 3/4" Across Front Of Chest, 26 3/4" In Length
Large = 17 3/4" Across Front Of Chest, 27 3/8" In Length
XL = 18 3/4" Across Front Of Chest, 28" In Length
2XL = 19 3/4" Across Front Of Chest, 28 5/8" In Length
Baseball T-Shirt Approximate Measurements
Small = 17 5/8" Across Front Of Chest, 27.5" In Length
Medium = 19 5/8" Across Front Of Chest, 28.5" In Length
Large = 21 5/8" Across Front Of Chest, 29.5" In Length
XL = 23 5/8" Across Front Of Chest, 30.5" In Length
2XL = 25 5/8" Across Front Of Chest, 31.5" In Length
Tank Top Approximate Measurements
Small = 18 1/4" Across Front Of Chest, 27" In Length
Medium = 20 1/4" Across Front Of Chest, 28" In Length
Large = 22 1/4" Across Front Of Chest, 29" In Length
XL = 24 1/4" Across Front Of Chest, 30" In Length
2XL = 26 1/4" Across Front Of Chest, 31" In Length
Long Sleeve T-Shirt Approximate Measurements
Small = 18" Across Front Of Chest, 28 1/4" In Length
Medium = 20" Across Front Of Chest, 29 3/8" In Length
Large = 22" Across Front Of Chest, 30 1/2" In Length
XL = 24" Across Front Of Chest, 31 5/8" In Length
2XL = 26" Across Front Of Chest, 32 3/4" In Length

3XL = 28" Across Front Of Chest, 33" In Length

4XL = 30" Across Front Of Chest, 34" In Length

5XL = 32" Across Front Of Chest, 35" In Length
Zip Hoodie Approximate Measurements
Small = 20.5" Across Front Of Chest, 25" In Length
Medium = 21.5" Across Front Of Chest, 26.5" In Length
Large = 22.5" Across Front Of Chest, 28.5" In Length
XL = 23.5" Across Front Of Chest, 29.5" In Length
2XL = 24.5" Across Front Of Chest, 30.5" In Length

3XL = 25.5" Across Front Of Chest, 31.5" In Length
Pullover Hoodie Approximate Measurements
Small = 20" Across Front Of Chest, 28" In Length
Medium = 22" Across Front Of Chest, 29" In Length
Large = 24" Across Front Of Chest, 30" In Length
XL = 26" Across Front Of Chest, 31" In Length
2XL = 27" Across Front Of Chest, 32" In Length

3XL = 28" Across Front Of Chest, 33" In Length

4XL = 29.5" Across Front Of Chest, 34" In Length

5XL = 31" Across Front Of Chest, 34.5" In Length
Crewneck Sweatshirt Approximate Measurements
Small = 18.75" Across Front Of Chest, 26.37" In Length
Medium = 20.75" Across Front Of Chest, 27.87" In Length
Large = 22.25" Across Front Of Chest, 29" In Length
XL = 23.62" Across Front Of Chest, 30.12" In Length
2XL = 25.12" Across Front Of Chest, 31.25" In Length
Joggers Fleece Pants Approximate Measurements
X-Small = 26-28" Waist, 28" Inseam
Small = 

28-31

" 

Waist

, 

29.5" Inseam

Medium = 31-33

" 

Waist

, 30

" Inseam

Large = 

33-35

" 

Waist

, 30

" Inseam

XL = 35-38" Waist, 30.5" Inseam
2XL = 38-42" Waist, 30.5" Inseam
Ladies Crop Top Hoodie Approximate Measurements
Small = 22" Across Front Of Chest, 18 5/8" In Length
Medium = 23.5" Across Front Of Chest, 19 3/8" In Length
Large = 25.5" Across Front Of Chest, 21 3/8" In Length
XL = 27.5" Across Front Of Chest, 22 1/8" In Length
2XL = 29.5" Across Front Of Chest, 22 7/8" In Length
Thanks for signing up for restock notifications!
There was an error signing up for restock notifications. Please try again.
REQUEST A RESTOCK
Notify Me
Hatchet "Terror Goes Old School" Baseball T-Shirt
Officially Licensed

SUPER Soft Ringspun Cotton/Polyester Mix

Black Body, Red Sleeves, Unisex Tee. Great Fit For Both Men and Women
Side Seams
Screen Printed Design
Artist: Yannick Bouchard
In stock Items ship within 1-2 business days. Pre-order Items will ship by date posted within the product listing. 
*Please note that shipping times may vary during big releases and sales.