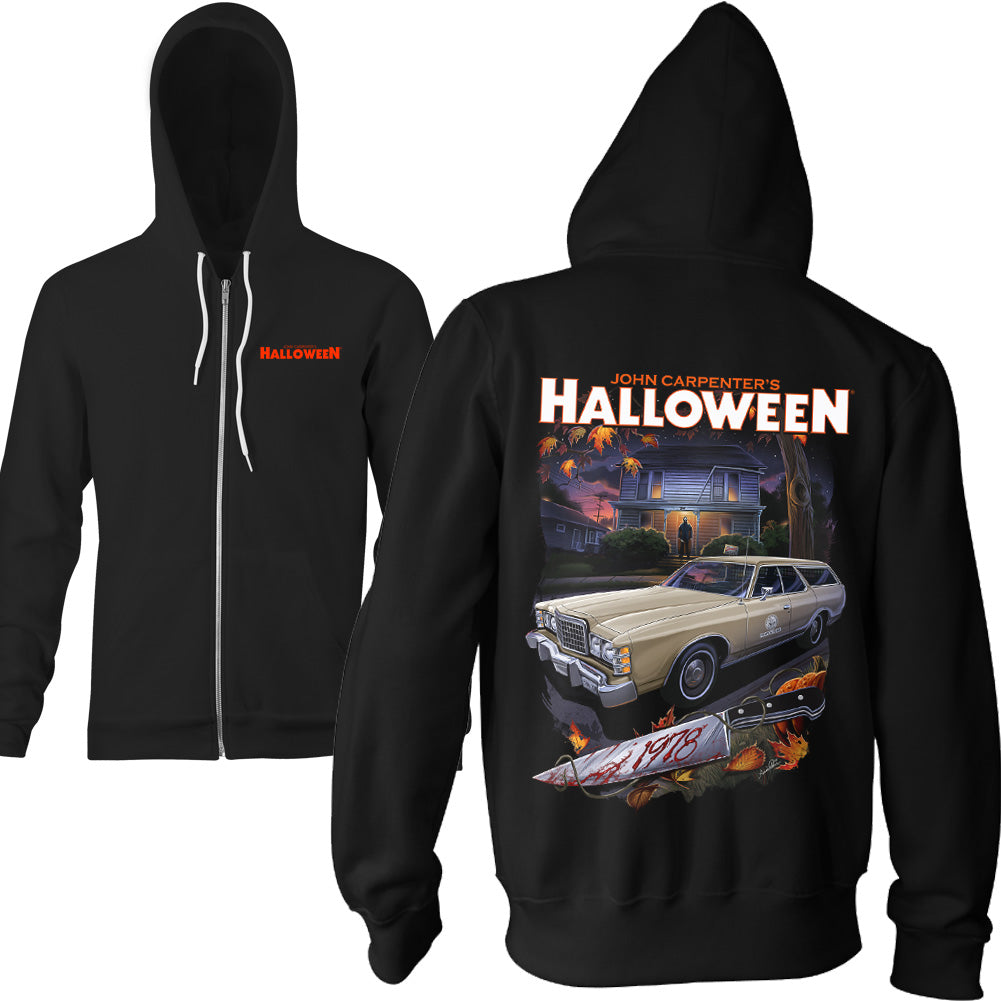 Halloween Spirit Of 1978 Zip Hoodie
---
Size chart
Unisex T-Shirt Approximate Measurements
Small = 18" Across Front Of Chest, 28" In Length

Medium = 20" Across Front Of Chest, 29" In Length

Large = 22" Across Front Of Chest, 30" In Length

XL = 24" Across Front Of Chest, 31" In Length

2XL = 26" Across Front Of Chest, 32" In Length

3XL = 28" Across Front Of Chest, 33" In Length

4XL = 30" Across Front Of Chest, 34" In Length

5XL = 32" Across Front Of Chest, 35" In Length
Ladies Form Fit T-Shirt Approximate Measurements
Small = 16" Across Front Of Chest, 26 1/4" In Length
Medium = 16 3/4" Across Front Of Chest, 26 3/4" In Length
Large = 17 3/4" Across Front Of Chest, 27 3/8" In Length
XL = 18 3/4" Across Front Of Chest, 28" In Length
2XL = 19 3/4" Across Front Of Chest, 28 5/8" In Length
Baseball T-Shirt Approximate Measurements
Small = 17 5/8" Across Front Of Chest, 27.5" In Length
Medium = 19 5/8" Across Front Of Chest, 28.5" In Length
Large = 21 5/8" Across Front Of Chest, 29.5" In Length
XL = 23 5/8" Across Front Of Chest, 30.5" In Length
2XL = 25 5/8" Across Front Of Chest, 31.5" In Length
Tank Top Approximate Measurements
Small = 18 1/4" Across Front Of Chest, 27" In Length
Medium = 20 1/4" Across Front Of Chest, 28" In Length
Large = 22 1/4" Across Front Of Chest, 29" In Length
XL = 24 1/4" Across Front Of Chest, 30" In Length
2XL = 26 1/4" Across Front Of Chest, 31" In Length
Long Sleeve T-Shirt Approximate Measurements
Small = 18" Across Front Of Chest, 28 1/4" In Length
Medium = 20" Across Front Of Chest, 29 3/8" In Length
Large = 22" Across Front Of Chest, 30 1/2" In Length
XL = 24" Across Front Of Chest, 31 5/8" In Length
2XL = 26" Across Front Of Chest, 32 3/4" In Length

3XL = 28" Across Front Of Chest, 33" In Length

4XL = 30" Across Front Of Chest, 34" In Length

5XL = 32" Across Front Of Chest, 35" In Length
Zip Hoodie Approximate Measurements
Small = 20.5" Across Front Of Chest, 25" In Length
Medium = 21.5" Across Front Of Chest, 26.5" In Length
Large = 22.5" Across Front Of Chest, 28.5" In Length
XL = 23.5" Across Front Of Chest, 29.5" In Length
2XL = 24.5" Across Front Of Chest, 30.5" In Length

3XL = 25.5" Across Front Of Chest, 31.5" In Length
Pullover Hoodie Approximate Measurements
Small = 20" Across Front Of Chest, 28" In Length
Medium = 22" Across Front Of Chest, 29" In Length
Large = 24" Across Front Of Chest, 30" In Length
XL = 26" Across Front Of Chest, 31" In Length
2XL = 27" Across Front Of Chest, 32" In Length

3XL = 28" Across Front Of Chest, 33" In Length

4XL = 29.5" Across Front Of Chest, 34" In Length

5XL = 31" Across Front Of Chest, 34.5" In Length
Crewneck Sweatshirt Approximate Measurements
Small = 18.75" Across Front Of Chest, 26.37" In Length
Medium = 20.75" Across Front Of Chest, 27.87" In Length
Large = 22.25" Across Front Of Chest, 29" In Length
XL = 23.62" Across Front Of Chest, 30.12" In Length
2XL = 25.12" Across Front Of Chest, 31.25" In Length
Joggers Fleece Pants Approximate Measurements
X-Small = 26-28" Waist, 28" Inseam
Small = 

28-31

" 

Waist

, 

29.5" Inseam

Medium = 31-33

" 

Waist

, 30

" Inseam

Large = 

33-35

" 

Waist

, 30

" Inseam

XL = 35-38" Waist, 30.5" Inseam
2XL = 38-42" Waist, 30.5" Inseam
Ladies Crop Top Hoodie Approximate Measurements
Small = 22" Across Front Of Chest, 18 5/8" In Length
Medium = 23.5" Across Front Of Chest, 19 3/8" In Length
Large = 25.5" Across Front Of Chest, 21 3/8" In Length
XL = 27.5" Across Front Of Chest, 22 1/8" In Length
2XL = 29.5" Across Front Of Chest, 22 7/8" In Length
Thanks for signing up for restock notifications!
There was an error signing up for restock notifications. Please try again.
REQUEST A RESTOCK
Notify Me
*

PRE-ORDER ITEM!

 Ships by October 14th. Any orders placed that Include this item will not ship until said week. Please be advised.
Halloween "Spirit Of 1978" Zip Hoodie
Officially Licensed

SUPER Soft Ringspun Cotton/Polyester Mix

Black, Unisex Adult Sized, Mid-weight Zipper Hoodie

Screen Printed Design
Artist:

 

Aaron Fulcher
In stock Items ship within 1-2 business days. Pre-order Items will ship by date posted within the product listing. 
*Please note that shipping times may vary during big releases and sales.