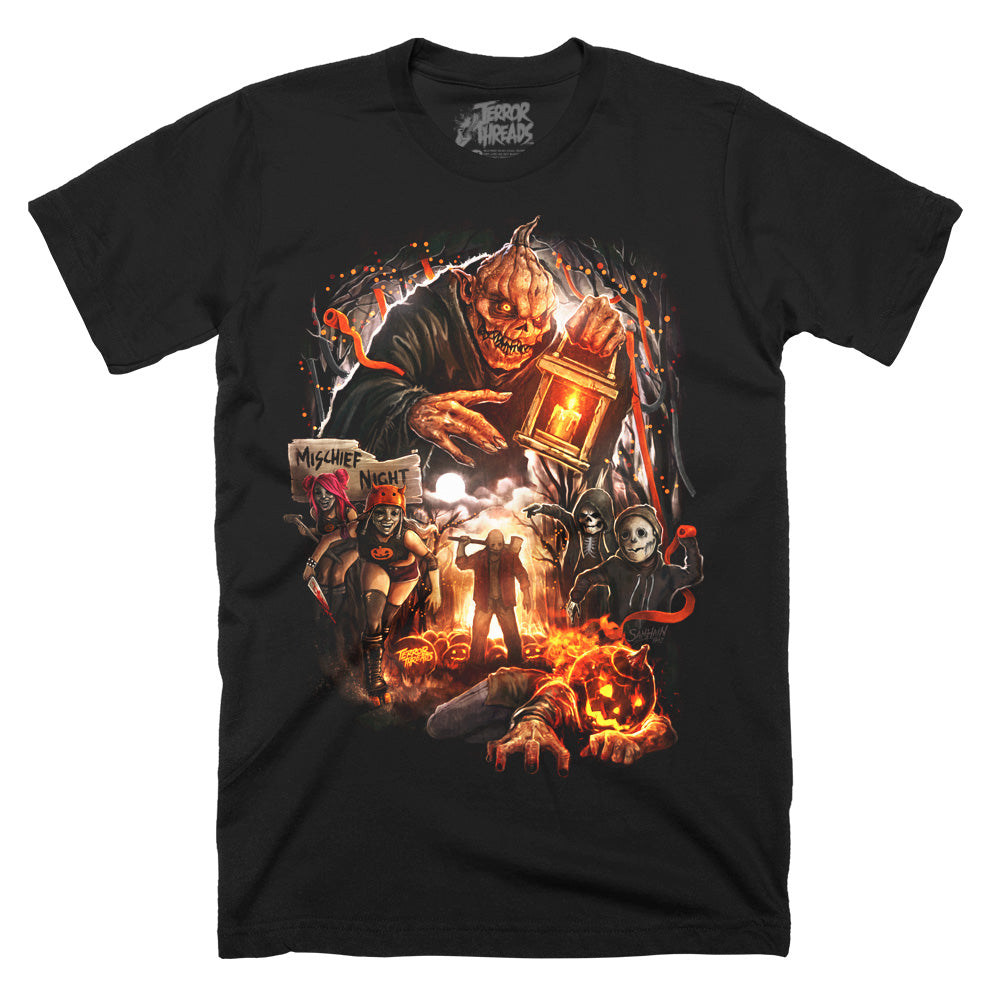 Mischief Night T-Shirt
Size chart
Unisex T-Shirt Approximate Measurements
Small = 18" Across Front Of Chest, 28" In Length

Medium = 20" Across Front Of Chest, 29" In Length

Large = 22" Across Front Of Chest, 30" In Length

XL = 24" Across Front Of Chest, 31" In Length

2XL = 26" Across Front Of Chest, 32" In Length

3XL = 28" Across Front Of Chest, 33" In Length

4XL = 30" Across Front Of Chest, 34" In Length

5XL = 32" Across Front Of Chest, 35" In Length
Ladies Form Fit T-Shirt Approximate Measurements
Small = 16" Across Front Of Chest, 26 1/4" In Length
Medium = 16 3/4" Across Front Of Chest, 26 3/4" In Length
Large = 17 3/4" Across Front Of Chest, 27 3/8" In Length
XL = 18 3/4" Across Front Of Chest, 28" In Length
2XL = 19 3/4" Across Front Of Chest, 28 5/8" In Length
Baseball T-Shirt Approximate Measurements
Small = 17 5/8" Across Front Of Chest, 27.5" In Length
Medium = 19 5/8" Across Front Of Chest, 28.5" In Length
Large = 21 5/8" Across Front Of Chest, 29.5" In Length
XL = 23 5/8" Across Front Of Chest, 30.5" In Length
2XL = 25 5/8" Across Front Of Chest, 31.5" In Length
Tank Top Approximate Measurements
Small = 18 1/4" Across Front Of Chest, 27" In Length
Medium = 20 1/4" Across Front Of Chest, 28" In Length
Large = 22 1/4" Across Front Of Chest, 29" In Length
XL = 24 1/4" Across Front Of Chest, 30" In Length
2XL = 26 1/4" Across Front Of Chest, 31" In Length
Long Sleeve T-Shirt Approximate Measurements
Small = 18" Across Front Of Chest, 28 1/4" In Length
Medium = 20" Across Front Of Chest, 29 3/8" In Length
Large = 22" Across Front Of Chest, 30 1/2" In Length
XL = 24" Across Front Of Chest, 31 5/8" In Length
2XL = 26" Across Front Of Chest, 32 3/4" In Length

3XL = 28" Across Front Of Chest, 33" In Length

4XL = 30" Across Front Of Chest, 34" In Length

5XL = 32" Across Front Of Chest, 35" In Length
Zip Hoodie Approximate Measurements
Small = 20.5" Across Front Of Chest, 25" In Length
Medium = 21.5" Across Front Of Chest, 26.5" In Length
Large = 22.5" Across Front Of Chest, 28.5" In Length
XL = 23.5" Across Front Of Chest, 29.5" In Length
2XL = 24.5" Across Front Of Chest, 30.5" In Length

3XL = 25.5" Across Front Of Chest, 31.5" In Length
Pullover Hoodie Approximate Measurements
Small = 20" Across Front Of Chest, 28" In Length
Medium = 22" Across Front Of Chest, 29" In Length
Large = 24" Across Front Of Chest, 30" In Length
XL = 26" Across Front Of Chest, 31" In Length
2XL = 27" Across Front Of Chest, 32" In Length

3XL = 28" Across Front Of Chest, 33" In Length

4XL = 29.5" Across Front Of Chest, 34" In Length

5XL = 31" Across Front Of Chest, 34.5" In Length
Crewneck Sweatshirt Approximate Measurements
Small = 18.75" Across Front Of Chest, 26.37" In Length
Medium = 20.75" Across Front Of Chest, 27.87" In Length
Large = 22.25" Across Front Of Chest, 29" In Length
XL = 23.62" Across Front Of Chest, 30.12" In Length
2XL = 25.12" Across Front Of Chest, 31.25" In Length
Joggers Fleece Pants Approximate Measurements
X-Small = 26-28" Waist, 28" Inseam
Small = 

28-31

" 

Waist

, 

29.5" Inseam

Medium = 31-33

" 

Waist

, 30

" Inseam

Large = 

33-35

" 

Waist

, 30

" Inseam

XL = 35-38" Waist, 30.5" Inseam
2XL = 38-42" Waist, 30.5" Inseam
Ladies Crop Top Hoodie Approximate Measurements
Small = 22" Across Front Of Chest, 18 5/8" In Length
Medium = 23.5" Across Front Of Chest, 19 3/8" In Length
Large = 25.5" Across Front Of Chest, 21 3/8" In Length
XL = 27.5" Across Front Of Chest, 22 1/8" In Length
2XL = 29.5" Across Front Of Chest, 22 7/8" In Length
---
In stock, ready to ship

Inventory on the way
Thanks for signing up for restock notifications!
There was an error signing up for restock notifications. Please try again.
Notify Me If Restocked Or a Pre-order Opens Up!
Notify Me
Terror Threads "Mischief Night" T-Shirt
100% SUPER Soft Ringspun Cotton

Black Unisex Tee. Great Fit For Both Men and Women
Shoulder-To-Shoulder Taping
Side Seams
Screen Printed Design
Artist: Sam Coyne (Samhain1992)
In stock Items ship within 1-2 business days. Pre-order Items will ship by date posted within the product listing. 
*Please note that shipping times may vary during big releases and sales.